Hey guys!
I'm very sorry for not been able to update latly… its been tooo much this month.. new job and long hours.. i me and my friend started to make some videos.. i will upload it as soon as i can when im done editing it.
So anyways i just got home from the city, having a christmas dinner for two with my sister from another mother.. you guys should follow her in instagram IGMOROCCO  look her up and follow. So well we here at the restaurant having dinner.. omg i promise you it took 15 min for us to order and 20 min to get our drinks and even 30 min to get our food witch was really hm.. well under stake. Never again we are going there to eat.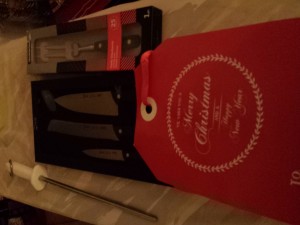 My sister got me this knife set.. im sooo happy and yes Chefs like this kind of christmas presents.. its nice andi love it!